We are constantly improving W3 Total Cache— and listening to your feedback has allowed us to continue offering a top-notch product.
In this latest release, we are proud to introduce some new features and improvements which will help you further increase the speed and performance of your website.
The first new addition that we would like to highlight is Image Lazy Loading, a completely new and highly requested feature to W3 Total Cache that came directly from our users.
Lazy loading images 
Lazy loading images mean that images on websites are loaded asynchronously— after the above-the-fold content is fully loaded all other images are only fetched when they appear in the browser's viewport. Lazy loading defers the loading of resources on the page until they are actually needed, instead of getting them as soon as the page loads. Loading resources ensures that nothing is gathered until the moment the user actually needs them.
If you've used Google Page Speed Insights and examined some opportunities for improvement, you may have seen some suggestions to Defer offscreen Images.

With lazy loading, you are reducing the number of images needed to load the page initially. Fewer resource requests mean fewer bytes to download and reduced competition for the limited network bandwidth available to users.
Lazy loading image has a positive impact on performance by reducing the initial page load time, page weight, and system resource usage.
Improved Statistics
We are also excited to announce the new and improved Statistics page that will help our Pro users get the most out of their caching and locate additional areas of optimization.  The improved Statistics page allows you to check the Hit rates and overall effectiveness of every configuration enabled in your General settings.
You can use Statistics to check the following:
Page Cache (Disk, Disk-Enhanced, Redis, Memcached)

Minify

Object Caching

Database Caching

Fragment Cache

System info (PHP Memory, CPU Info)

Cache storage size used (Redis, Memcached)
Enabling the Debug mode for each setting In Performance > General Settings > Debug gives you more detailed information by clicking on a link of the desired setting in Statistics Page.
If for example, Object Cache is disabled, it won't be available in Statistics
In Performance > General Settings > Statistics you can enable Statistics and customize your desired settings: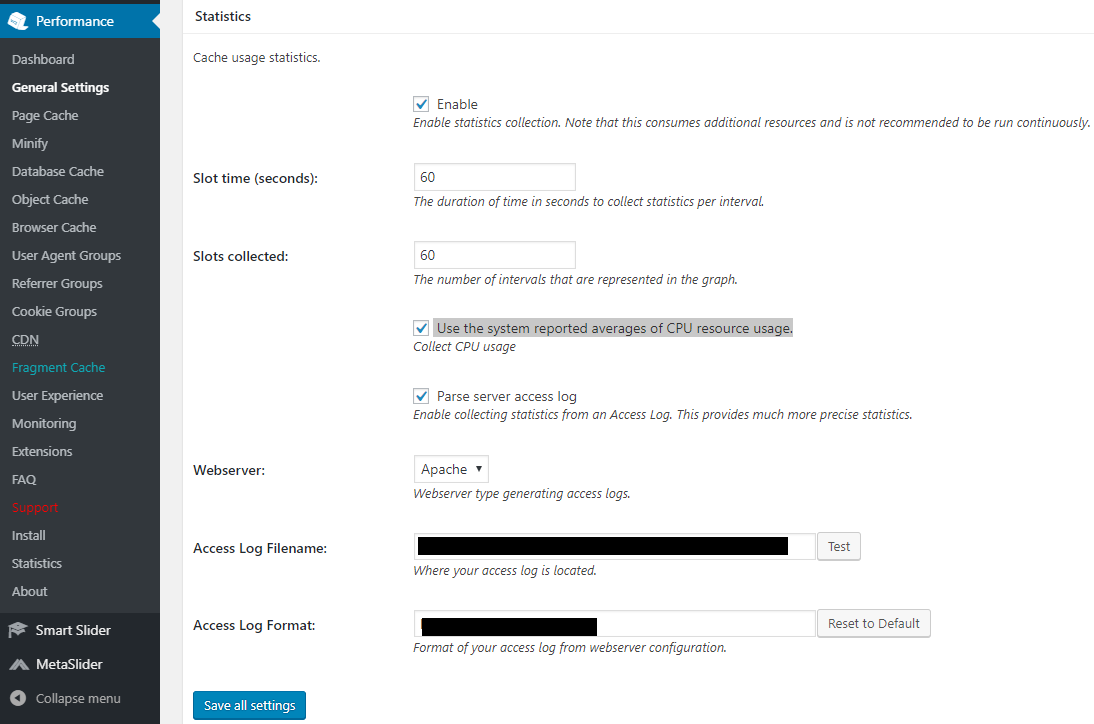 Please note that this consumes additional resources and is not recommended to be run continuously.
Example of the Statistic Page (Page Cache):

Other Improvements
We've also made some more general improvements in this update to enhance the overall user experience:
Fixed inserting a new line before injecting to Apache Config

Fixed HTML minifier removing the quotes around href attribute

Fixed feeds caching test failing

Added License Expiration Admin Notices in Dashboard (Pro)

Implemented correct headers caching for REST API caching under Disk: Enhanced. including a missing test for REST API cache

Changed some design in W3 Total Cache Dashboard

Added BoldGrid Backup Dashboard Widget
Community Pull Requests
Merged
Closed but not Merged
Committed Pull Requests (Still Open)
Recent 5 Star Reviews
JordanJCaron (@jordanjcaron)
I've been using this on my own website for a couple of years now to improve website load speed. Teamed up with MaxCDN it has increased my page load speed a lot. We install it on all of our client's websites now!
https://wordpress.org/support/topic/best-cache-plugin-out-there/
jamesja (@jamesja) 
Tried numerous caching plugins. W3 is best, especially for busy sites. Most plugins only cache pages, W3 has so many options. Support is very helpful as well. 5 stars.
https://wordpress.org/support/topic/great-plugin-for-busy-site-and-very-helpful-support/
dave8441 (@dave8441)
This plugin made my web pages load faster than other similar plugins I had tried. When I needed help to exclude my sitemaps from caching, support quickly gave me the help I needed. Thanks!!!
https://wordpress.org/support/topic/great-plugin-and-awesome-support-107/
Wesleeeyyy (@wesleeeyyy)
I already knew what W3TC could do for the performance (speed) of my website, but until today I had no experience with their support for the free version of the plugin.
The amount of support they provided me and how much they helped me is outstanding. And that's all for free. Really great plugin, would really recommend this one!
https://wordpress.org/support/topic/super-high-speed-website-and-really-amazing-support/
hmnkdmtr (@hmnkdmtr)
A user's attention covers fewer features than Total Cache has
https://wordpress.org/support/topic/a-functional-choice/
We want to thank you for using W3 Total Cache and for helping us make W3 Total Cache the most complete caching solution for WordPress!