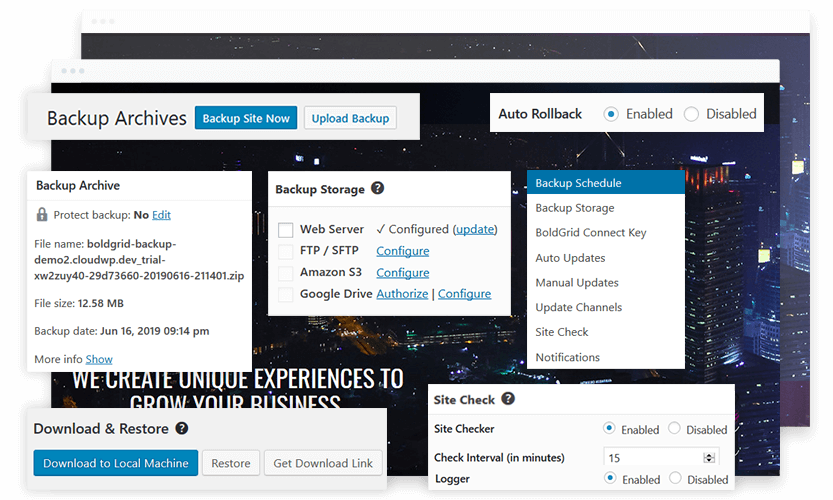 We've all been there – scouring the internet for the best WordPress backup plugin, trying to read reviews and list out pros and cons before installing and trying it out for ourselves. That's why we scoured for you, finding the best backup plugin, so you don't have to.
The Total Upkeep Plugin boasts a suite of features all tucked into one plugin. Automated, powerful tools to ensure you always have a clean backup, a toolset to prevent website crashes from happening in the first place, and allows you to get your site back online within a few hours if the worst occurs.
Securing your WordPress website with the Total Upkeep Plugin is an easy solution for quick, worry-free backups, updates, restorations, migrations, and security.
You can easily schedule your backups or run them manually. Simply select a date and time for automated backups, or manually create a backup at any time with a single click. You can monitor your site for errors that could lead to it crashing. If any errors are found, you get an automatic email with the option to restore your site to the latest backup that was taken.
If you have automatic updates set up to run, Total Upkeep will create an archive of your site before any plugin or theme updates run so that if those updates fail, it will restore back to the last backup taken.
Typically the process of migrating your WordPress website from one place to another is a headache, you're risking files being lost, not working properly or any number of things that are a potential disaster. With the Total Upkeep plugin for WordPress, migration is a breeze. You just install it on both websites, create a backup on the first site, and then restore the backup on the second site. The "magic link" automates everything so you don't have to worry about anything!
Total Upkeep boasts a restoration script to restore a backup from outside of WordPress, in the event that WordPress has been corrupted. Additionally, it has the option to restore single files from within the backup browser, as well as looking through archives for individual files to restore those if necessary as well.
Our choice for the best backup plugin to use in 2020 is Total Upkeep for WordPress. With it's easy, automated backups, the ability to store backups remotely and safely via Amazon S3, Google Drive, or FTP/SFTP, and features like site checking for errors, and automatic archiving, it is our go-to plugin when it comes to backup and security of WordPress.
Total Upkeep is supported by and partnered with DreamHost, InMotion Hosting, Plesk, cPanel and Softaculous.